NextBlue Alliance Conference: Artificial Intelligence has become a staple in business decision-making
Gartner's "Hype Cycle" on new marketing technologies indicates that artificial intelligence (AI) is far from having reached the adoption and productivity stage in businesses (see below). Still, AI has become essential in business decision-making, especially for marketing managers. This information emerged from the recent breakfast conference organized at Club St. James by the NextBlue Alliance and its partners SIA innovations, ExoB2B and ClearGoals.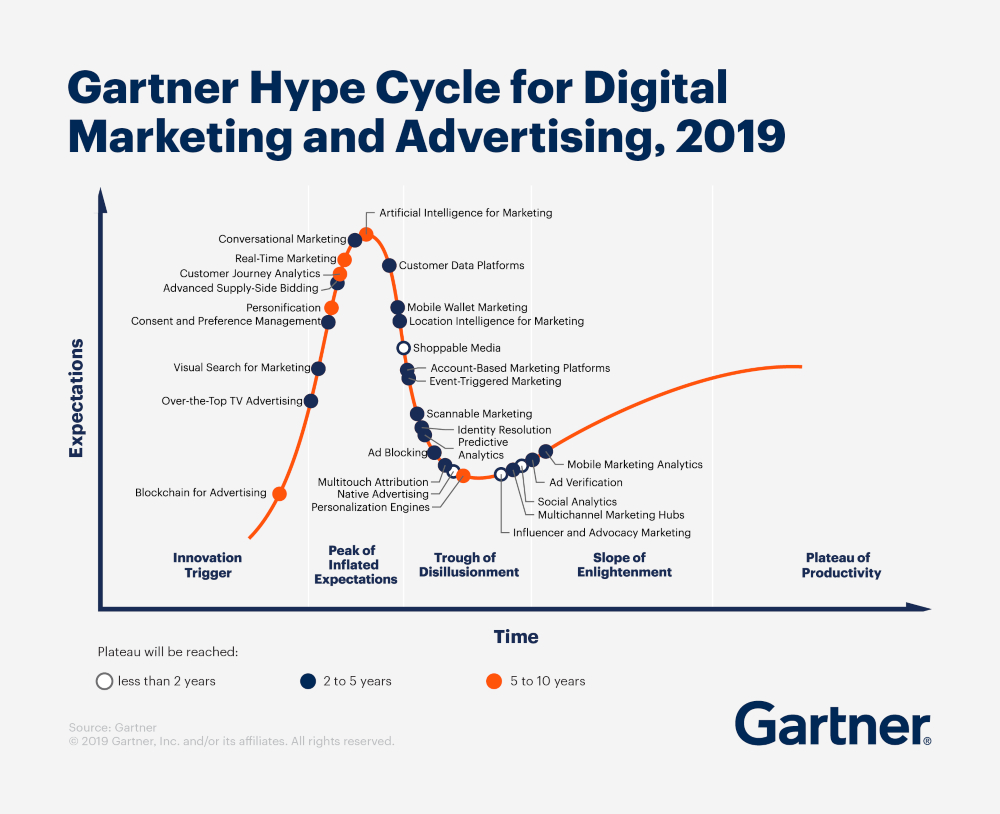 On one hand, several studies show that only 15 to 20% of companies think they have mastered their technologies and in particular those like AI.
In fact, it is even abysmal, and it unfortunately rings true for Quebec businesses in all fields, and large or small.
On the other hand, Gartner is saying, "Watch out!" Artificial intelligence is at the peak of inflated expectations, and despite common beliefs will not solve everything de facto. During the conference, Alain Thériault, Alexandre Lanoue, and Sean Barclay, succeeded each other in explaining that AI resolves issues, and in some cases multiple important ones, but it is not a panacea.
To successfully implant AI in business processes and specifically in marketing, you need to have patience, of course, but also a good plan, a good methodology and a good set of technological tools. You also need to successfully manage changes, and partner with specialists if there is no expertise available internally.
AI and Digital Acceleration
What companies and their Chief Marketing Officers (CMOs) are looking for, but will not happen without the intervention of AI is:
Improve the multi-channel customer experience.
Reinvent the customer experience through digital innovation.
Demonstrate a return on investment on marketing projects.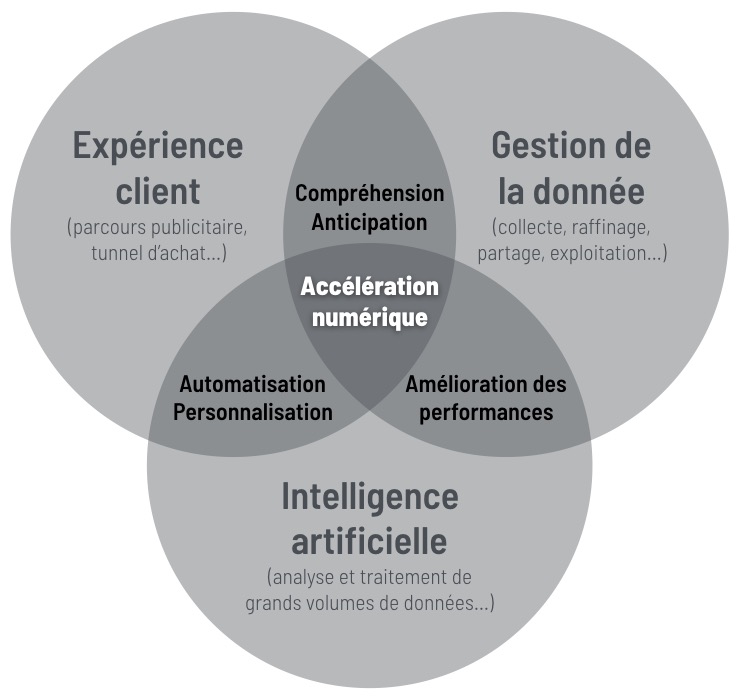 The customer experience is indeed one of the major factors of the digital transformation success. CMOs want to reinvent themselves, but only if they can prove to senior leaders that customer experiences, data management and artificial intelligence are capable of producing a powerful digital acceleration in the company, while also generating the famous return on investment or ROI.
In each of the three poles, there are specific examples where AI could have this desired impact. Here are a few:
Ø Audience selection: Offer tailor-made experiences
Ø Offers and content: Brings higher commitment
Ø Channels: Determine the right place and right time
Ø Analysis: Improve marketing performance rapidly
Ø Prediction and detection of anomalies: Plan more efficiently
Quebec CMOs and marketing directors should keep in mind that even if they are currently sitting on an ejection seat, due to the high expectations surrounding the customer experience, they remain, according to an ExoB2B study, the main drivers of the marketing transformation of their business. And the more challenges there are, the more they will tend to trust big, proven solutions such as IBM's.
Of all the examples cited during the conference, there is one point of convergence: data management and analysis. AI can process huge amounts of data. This is where artificial intelligence catalyzes digital transformation and augments humans' decision-making.